Subaru Oil Changes | How Often Do I need Them?

The best source of information for proper lubrication of your Subaru is your owner's manual. Most current Subaru models require an oil change every 5,000 miles. Some older Subaru's models might be operating on the older standard of changing every 3,000 miles.

However, the best answer to this question depends on what type of oil you are using in your engine. New Subaru's generally drive off the dealer's lot with a synthetic oil created by the manufacturer for optimal performance. Genuine Subaru oil has a blend of additives, detergents, and modifiers engineered specifically for the BOXER® engines. The manufacturer recommended mileage before changing this oil is 5,000 miles.

As a vehicle owner you have the right to put any oil you wish in your vehicle. Your Subaru last longer if you use the type of oil recommended by the manufacturer. Trust us, we've seen engine sludge up close!

The Benefits of Modern Synthetic Oil Over Conventional Oil

Superior Protection From Wear

Synthetic oils are generally made of more pure base oils and contain additives that enhance the molecular structure to be more durable and efficient lubricants. Modern synthetic oils provide better resistance to friction and temperature changes. They are engineered to prevent wear better over time by bonding with engine parts efficiently and distributing more evenly over engine parts. Studies have shown that conventional oil, when tested against synthetics, has more sludge and deposits when changed at 100 and 1,000 hours of operation. Another great reason to go with Synthetic.


Enhanced Cleanliness for the Engine

As oil circulates through the engine, it collects the impurities and deposits generated during the combustion process and removes them, ensuring that the components of the engine are kept clean at all times. The additives and detergents used in synthetic oil can prevent the formation of sludge and other deposits on the engine more efficiently and a cleaner engine means longer engine life.

Subaru owners tend to love the outdoors and have been known to take their cars and SUVs off-road.  These adventures can add some stress to your engine and synthetic oil is engineered to work best when you're testing the performance and durability of your engine with more difficult terrain. 

Check Out All The Yellow Caps in Your Engine Compartment
Subaru BOXER® engines are built to last and getting maintenance and repairs done by a certified technician is always the best route. If you pop the hood on your Subaru you'll see plenty of information for the average owner who may need to address some things on their own from time to time.  The yellow caps throughout the engine compartment all display information about the different fluids and lubricants important to your engine. The engine oil cap has the oil type needed for your engine listed right on it.  You can easily locate the windshield washer fluid reservoir during those winter months when you start taking on the slush and salt from traveling vehicles.
The yellow caps are designed to make maintenance and repair easy for technicians and the average car owner alike. If owners follow the recommended maintenance schedule for their vehicle they will hopefully never need to tackle difficult repairs unexpectedly or on their own.  In case you do , you can easily find your brake fluid reservoir versus your engine coolant. As long as you read the yellow caps first, you'll find it easy to determine your power steering fluid from your windshield washer fluid reservoir.
Hopefully, like us, you believe in proper preventative maintenance and plan to get your Subaru oil change done regularly. When you bring it to our service department we'll check the other fluids and top them off if needed. If you skip it, put it off or forget, it might cost you in the long run.
Some Tips On Saving Money In The Long Term
Some people think the added cost of synthetic oil isn't worth it. Consider this - conventional oil changes are generally about half the price of synthetic but you will need to change your oil more often.  Consider than over 100,000 miles of travel you may need to have your oil changed about 12-14  times more if you use conventional oil rather than a Genuine Subaru Synthetic.  Taking the added gas and time needed for those extra trips to a mechanic, is it worth it over the long haul?
Our final advice is to remember to check your oil often.  At least every other time you fill your gas tank.  Pull the dip stick from your engine after the vehicle is parked and the engine has been stopped.  Examine the oil level and appearance.  If you're low on oil you may need to add a quart.  When oil appears black or you see particles in the oil on the end of the dip stick there may be reason for concern and you should get your engine into a Subaru service center immediately for a checkup.  Identifying problems early can really save you money in the long term.  Safe travels!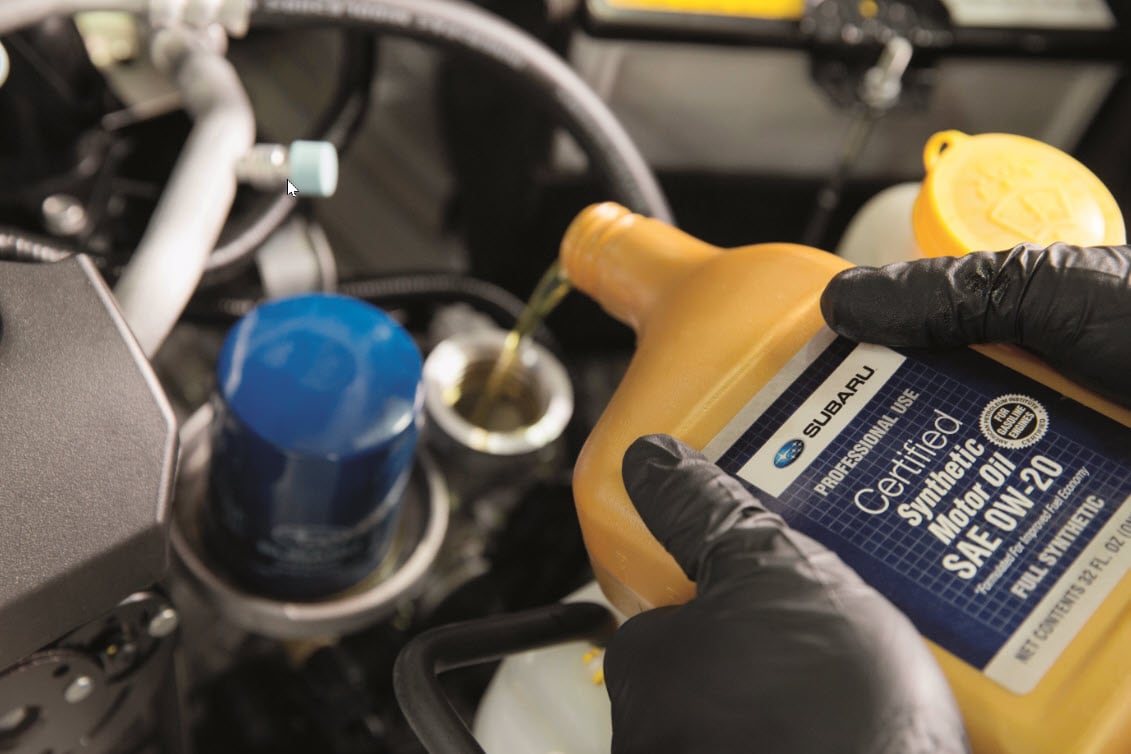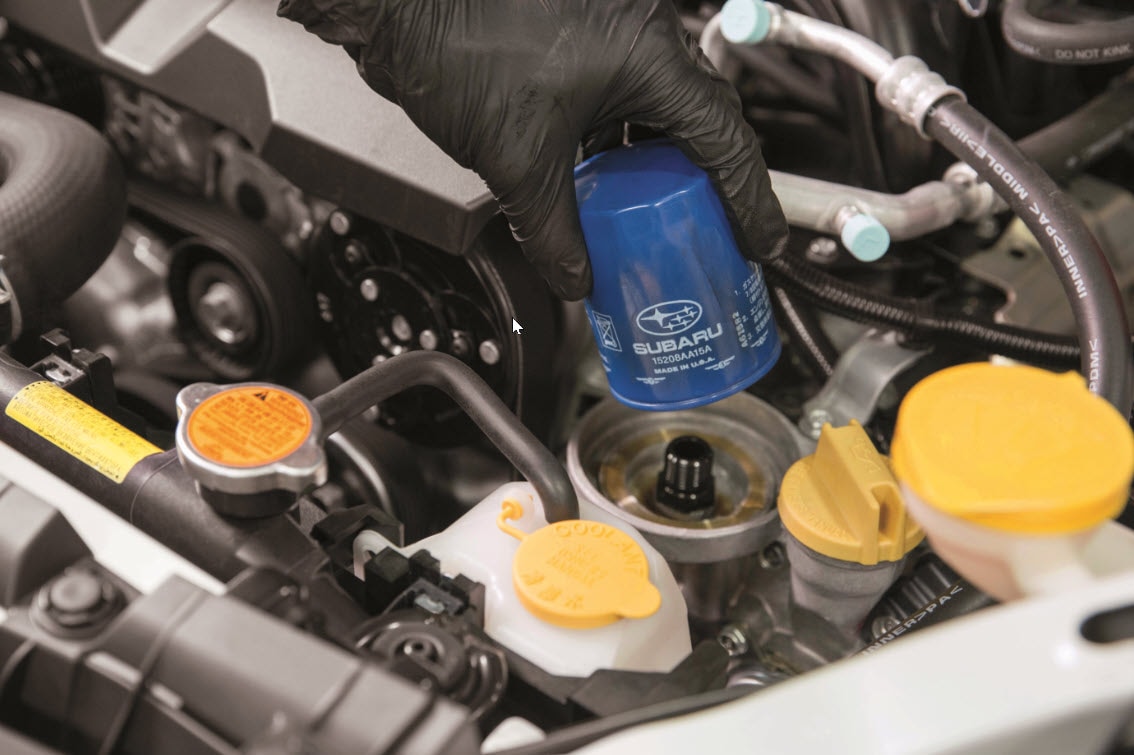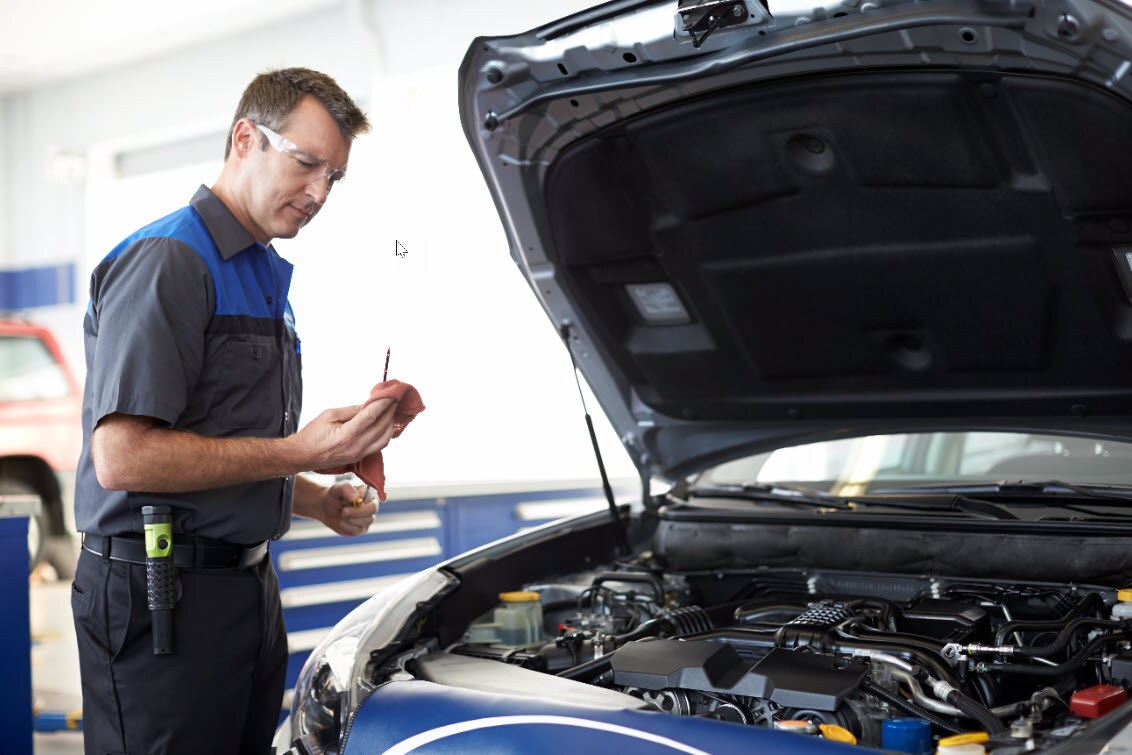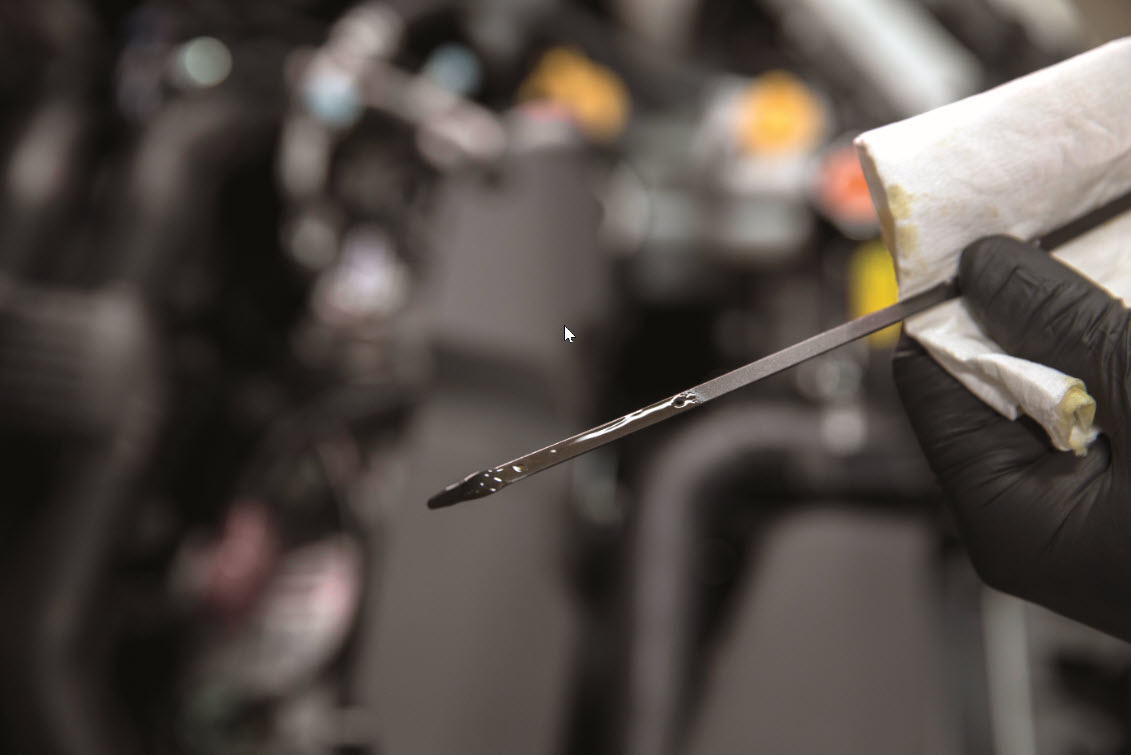 Hours
Monday

7:30AM-7:00PM

Tuesday

7:30AM-7:00PM

Wednesday

7:30AM-7:00PM

Thursday

7:30AM-7:00PM

Friday

7:30AM-7:00PM

Saturday

8:30AM-6:00PM

Sunday

Closed