The 2021 Subaru Love Promise Community Commitment Award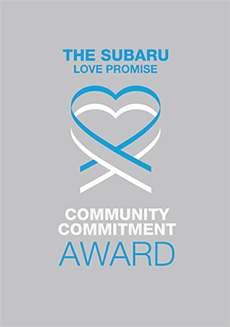 We've been nationally recognized for our dedication to our community and the Subaru Love Promise.
We're honored to receive the 2021 Subaru Love Promise Community Commitment Award. This award nationally recognizes Subaru retailers who are making the world a better place while demonstrating an outstanding commitment to supporting passions and causes in local communities. These efforts are focused in important areas such as the environment, community, health, education, and pets.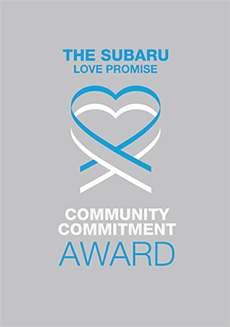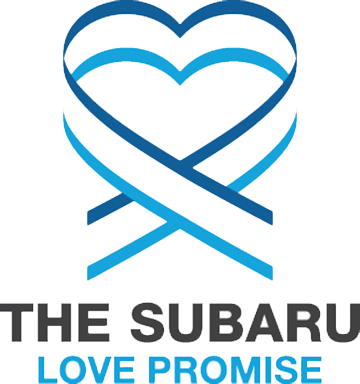 What is the Subaru Love Promise?
Subaru and our retailers believe in making the world a better place and the Subaru Love Promise is our vision of respecting all people. This is our commitment to show love and respect to our customers and to work to make a positive impact in the world.
How is Evergreen Subaru dedicated locally to the Love Promise?
Our Love Promise can be seen in various partnerships with local charities and non-profits. We're grateful for the opportunity, not only to be a part of our community, but to serve it as well.
Greater Androscoggin Humane So, Responsible Pet Care of Oxford Hills
United Way of Androscoggin C, Auburn Middle School
Chamber of Commerce, Boys and Girls Club of Southern Maine, The Public Theatre
Move Me Forward Foundation, Patrick Dempsey Cancer Center, Lisbon Emergency, Safe Voices
Love Promise Stories from Evergreen Subaru
Subaru and Evergreen Subaru believe in making a positive impact on the communities in which we live and work. We uphold that belief through our Love Promise Community Commitment. Every month, we select inspiring stories from customers and partners from around our area who strive to support our collective commitment and feature them here
Sharing the Love and Saving Lives Together - Donna R
A BIG thank you to all of our friends at Evergreen Subaru for another great Subaru Loves Pets Campaign! While it looked very different this year (we missed seeing our Evergreen Subaru friends!), we are grateful for the support in our work, and helping us place a whopping 198 pets in just 31 days – finding loving forever homes for 141 cats, 37 dogs, 4 guinea pigs, 4 hamsters, 4 rabbits, 6 rats and 2 parakeets. Here at the Greater Androscoggin Humane Society our adopters and supporters are our heroes and some go above and beyond to better the lives of their pets. Like Sally and Warren who gave Cappucino all the love and patience needed for her to blossom in her new home. Here's Cappucino's story… Cappucino came to the GAHS as a stray on August 27 along with 4 other cats that had been left in a box on someone's doorstep. She was by the far the most timid of the group and stayed at the shelter after all the others had found homes. Cappucino struggled at the shelter, and the staff tried ways to make her more comfortable while improving her socialization. Her nervous nature worried the staff, as her stress kept her from eating and she began to lose weight. Almost two full months after arriving at the shelter, on October 24, Cappucino found her match when Sally and Warren decided to bring her home. They have worked tirelessly over the past few weeks to make her comfortable in her new home. Sally has been sharing their story on Instagram, and we have all watched in awe as they truly have tried to meet Cappucino where she is. Sally had this to share: "After we lost our dear cat of 10 years in February, we were heartbroken, and we couldn't even think of a new cat. We wanted to adopt an adult cat if we did make the decision to add a family member, because everyone deserves the love and stability of a forever home. My boyfriend filled out the application and made plans to meet Cappucino without telling me, as a surprise, because he knows how lonely I am without an animal in my life. When he heard how hard of a time she was having at the shelter, it was no longer a matter of meeting a cat to bring home to surprise me with, it was about helping her. Once I saw Cappuccino, she stole my heart. I've been obsessively reading about ways to help her, and we are taking small steps at a time to allow her to adjust as we try and help her be comfortable with the big, wide world of our 2-bedroom apartment and all the love we have for her. We still have a long road to get to a place where she is comfy relaxing with us on her own, rather than having to be lured, caught, or coaxed out of a hiding place, but we will get there. She is definitely a two steps forward, three steps back kind of kitty, but we make progress every day. She's so sweet. She has free run of the house now, and she's definitely gained weight. She's still pretty impossible to approach without her trying to hide, but once we have her she's sweet. We make sure to interact when we don't catch her as well, so that she knows we aren't hunting her or something. I spent an hour laying on the floor, talking to her under the bed the other day. We have finally moved her food out from under the bed, and she is eating, but she's definitely jumpy about it, so we are very careful to be relatively still while she does. She's come so far though. Watching her walk around with her thumbs is hilarious and wonderful. More people should open their hearts to an adult animal who needs them. There are no words for how full it can make your heart. If a story about her helps another animal find a home and a family to love them it would just be that much more amazing to have her in my life. I needed her as much as she needed me. For real." Thank you again Evergreen Subaru for your continued Share the Love Partnership and making stories like Cappucino's possible. Best wishes to you all for a wonderful holiday season and we looks forward to seeing you all in person in 2021!
---
Evergreen Subaru Shares So Much Love!! - Stephanie G
Evergreen Subaru has gone above and beyond to help families from our agency. Sandcastle Clinical & Educational Services was chosen as the hometown charity for Subaru Share the Love by Evergreen last year. The $25,000.00 donation presented to us personally could not have come at a better time and was so appreciated as we worked toward fulfilling our mission and bringing much needed therapy and early childhood education to families in our community. Evergreen Subaru sent their team here to Sandcastle in a desire to learn more about the work we were doing as a partner agency in this community. They toured, they listened, and they interacted with our little ones. Beyond the time they invested in getting to understand our guiding principles, they sent a videography team over to our agency and taped family and staff testimony. They did this to educate their customers and our greater community about services being provided. For the past two years, Evergreen Subaru has set up a holiday giving tree and blessed many families with gifts for the holidays they would have otherwise not experienced. Our partnership with Evergreen has been amazing - their generosity and commitment to our community should make Subaru of America proud. Thank you Evergreen Subaru for being such a beacon of hope to so many families!
---
Evergreen Subaru's Stood in the Gap for Our Kids - Joel F
We are so grateful for Doug and Lynn Weisz and the entire team at Evergreen Subaru. They have always demonstrated a great love and support for our community. This past year, they stepped up in a big way to fund summer youth programing at The Root Cellar in Lewiston, Maine. Below is a story that was on our blog, demonstrating the incredible impact of their generosity and commitment to service. We couldn't have done it without them! ________________________ Amid the COVID 19 pandemic, we noted a significant drop in our individual donations and we had to postpone our golf tournament and cancel all of our missions teams. Additionally, grants that have been typically available this time of year were redistributed for other purposes due to the pandemic. We depend on these funding sources to create seven weeks of super summer day camp and twenty plus teen work experiences across the neighborhood including Super Summer Teen Squad Leaders and Lew Crew Lawn Care and Woodworking. Our team pressed forward to creatively determine how to use the governor's guidelines to safely produce a summer camp experience. We had faith that the means and wisdom necessary to do this important work during a season of such uncertainty. That's when Evergreen Subaru partnered with another local business to give us the means to create new and safe programing for our youth. They called us looking for an opportunity to invest in our work in the neighborhood, making the summer of 2020 truly super for our youth. Evergreen Subaru made an incredibly generous donation that helped to create socially distanced, safe and fun opportunities for 70+ neighborhood elementary aged children and 22 neighborhood teens. Super Summer Day Camp provided a safe place for 70 kids to work, play, grow and gather together. Every morning Monday through Thursday, the kids gathered together for the morning session, starting with breakfast, provided in partnership with Lewiston School system followed by "Brain Food", the morning session focused on academic development. After a break from 11 to 12, kids return for the afternoon session. Starting with eating lunch, followed by engaging with each other in character building activities, including arts and crafts, sports in the park and learning to ride bikes and scooters. In addition to our day camp, local teens can apply for summer work experience programs. This summer, twenty-two neighborhood teens received a stipend for participating in an 8+ week summer work experience. Super Summer Day Camp provides working and volunteer opportunities for teens in the community. The participating children are divided into groups, all led by Teen Squad Leader (TSL). Lew Crew Lawn Care and Woodworking is another summer program blessed by the donation. Lew Crew Lawncare and Woodworking engages neighborhood youth to develop work experience and small business skills with a focus on neighborhood beautification. Lew Crew currently serves thirty-three properties and has completed over 50 woodworking projects. This donation from Evergreen Subaru and Giroux Family Masonry will continue to have ripple effects in our community as we look ahead to the rest of the year. With our local schools hybrid learning plan in place, we have been able to open a Downtown Safe Learning Hub, offering educational opportunities for neighborhood children as they navigate these difficult days. _____________ This full story can be read at https://therootcellar.org/goodnews/2020/8/26/evergreen-subaru-and-giroux-family-masonry-stepped-up-this-summer
---
Partnering with Evergreen Subaru - Matt B
As a professional videographer in Maine, I was very fortunate to meet Lynn and Doug on a commercial shoot back in my television days. We instantly connected and they quickly became friends. Over the years we have continued to partner together on many different projects including commercials, promotional videos and most recently a virtual tour of their new building. From the time I started working with Evergreen Subaru, I have witness so many acts of kindness and caring towards their community. I have been lucky enough to produce videos highlighting their "Share the Love" campaigns and all of the amazing organizations they have helped over the years. I have always said, if I didn't love my job as a videographer, I would work at Evergreen Subaru for the sheer fact that they genuinely care. They care about their people, they care about their community and they care about doing the right thing every time to make sure every customer is treated fairly. Since we have worked together, My wife and I have also purchased 2 vehicles from ES. The experience of purchasing the vehicles was stress free and very easy and we will continue to do business with them into the foreseeable future!
---
Share the Love - Christy G
I can't even begin to explain how much this year's Subaru Share the Love campaign means to our organization. Being able to partner with our local Subaru dealer can easily double our annual budget and allow us to help so many more individuals with disabilities and their families. Central Maine Adaptive Sports serves individuals with physical and intellectual disabilities as well as their families, guardians, or sponsors in adaptive sports pursuits such as ski & snowboard, snowshoe, sled hockey, cycling, kayaking, and track & field. In addition to being able to get outdoors and be active in physical pursuits that are generally not accessible to people with disabilities, the athletes are able to build strength, motor skills, confidence, and social skills while being able to also build a better bond with their family despite potential communication disorders. It's amazing to see the participants light up and their parents cry because their child is able to a part of a team or see then cross the finish line, or honestly even just smile or make eye contact for the first time ever. The Share the Love program could literally double the number of families we're able to help annually and I can only imagine the difference that would make to all of those families, especially after a rough 2020 in which so many services for the disabled like day programs where shut down through the pandemic.
---
Evergreen Subaru Shares Love for Lewiston Youth! - Alli N
All of us at Tree Street Youth were beyond thrilled to be selected as the Hometown Charity for the Subaru Shares the Love Campaign this 2019. Tree Street Youth serves over 750 Lewiston/Auburn Pre-K-12 youth each year through our afterschool and summer programming. All of our programming - Youth Leadership, College Access & Homework Help, Juvenile Justice, enrichment opportunities in the arts and athletics, a safe drop-in center - come at no cost to families. That means that it takes a lot of support from our community to keep it all running and Evergreen Subaru has gone far above and beyond in showing their support to our youth center and all of our youth. Doug and Lynn Weisz & their amazing staff team were incredible partners this year. The Evergreen Subaru team got directly involved with organizing a paper goods drive (you can never have enough toilet paper and paper towels at our center!), running Maine Public awareness raising ads, leading a very special - and yummy - cookie decorating activity with our littlest students, and bringing their sales consultants on tours of our center to learn about our programs, meet our youth, and become even better ambassadors to share our mission & vision with their customers. What made the Subaru Shares the Love Program so special was this engagement and enthusiasm for our center shared by the entire Evergreen staff team. We could not be more grateful to Evergreen Subaru and Subaru of America. Their support and partnership is a testament to their amazing team and their commitment to our community. The funds that were raised through the Campaign directly benefit our MAPLE Youth Leadership Program and our BRANCHES College Access Program and therefore, has an impact on hundreds of youth in our community. With utmost gratitude, thank you Evergreen Subaru for investing in our youth and the future of our community.
---
A volunteer describes his work - Sarah C
Meals on Wheels would not be the success it is without the help of its many volunteers. At the annual Fill the Plate Breakfast to benefit Meals on Wheels at SeniorsPlus, we recognize someone who has made a difference to the lives of older people. This year, U.S Senator Susan Collins was recognized for her work and also was the keynote. Traditionally, another part of the program gives guests insight into the inner workings of Meals on Wheels through a presentation by a client, a staff member, or a volunteer. Chris Vachon, a longtime (11 years!) Meals on Wheels volunteer, was interviewed about his MOW work by his Direct Support Person. Meals at SeniorsPlus are prepared freshly in the kitchen and Chris helps pack the meals into meal trays and then into the delivery cars. Chris came to Meals on Wheels at SeniorsPlus through Work Opportunities Unlimited, a community-based employment service provider specializing in placing job seekers who experience barriers in employment. It is one of 14 agencies that together provide SeniorsPlus with a loyal team of more than 425 Meals on Wheels volunteers.
---
Evergreen and Wending Maps & Wayfinding - Wendy C
It was while I was buying my Outback from Evergreen Subaru that it occurred to me to ask for support of the not-for-profit mountain-biking maps project I was working on—after all, Subarus are great cars for outdoor adventures, including mountain biking. I talked to Lynn about it and she has been a wonderful supporter ever since. We worked together on a sponsorship package that has helped make the production of the maps possible. But not only that, Lynn has promoted the project through Evergreen's online and traditional media channels (I found about the radio channel when friends said "I heard about your maps on public radio!") and has recently produced a fun video of a group of us on a regular Tuesday-night ride. Evergreen Subaru has not only helped make the maps possible, but also helped promote them and make them available to people for being active in the outdoors. Truly a benefit to our community. I am grateful for Evergreen's support in making this happen.
---
SeniorsPlus Meals on Wheels Delivery in Maine - Sarah C
SeniorsPlus: A Day in the Life of a Meals on Wheels Driver Christopher Randall is a Meals on Wheels driver and assessor in rural Western Maine. In this program, he describes his work, travels, and the people he meets. (SeniorsPlus is grateful to Subaru of America for the donation of the 2018 Subaru Outback delivery car.)
---
Sharing the love down the road - Shelley K
The Androscoggin Land Trust (ALT) was happy to be at a recent event for community members and customers, hosted by Evergreen Subaru, and to witness the big reveal of the amount they raised for this years Share the Love Hometown Charity Trinity Jubilee Center! It was such a testament to the type of relationships Evergreen Subaru builds with their Hometown Charities, and their local community, to see that representatives from all 5 of the past locally based recipients attended this reveal event. The staff clearly embraced the Share the Love campaign and really connected with their hometown charities. ALT is grateful to have been last years recipient, to have a continuing relationship with Evergreen Subaru and we are excited to celebrate with the next recipient!
---