The 2021 Subaru Love Promise Community Commitment Award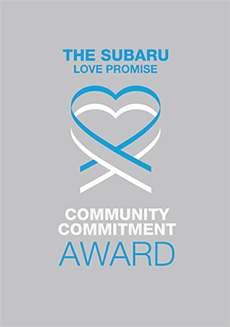 We've been nationally recognized for our dedication to our community and the Subaru Love Promise.
We're honored to receive the 2021 Subaru Love Promise Community Commitment Award. This award nationally recognizes Subaru retailers who are making the world a better place while demonstrating an outstanding commitment to supporting passions and causes in local communities. These efforts are focused in important areas such as the environment, community, health, education, and pets.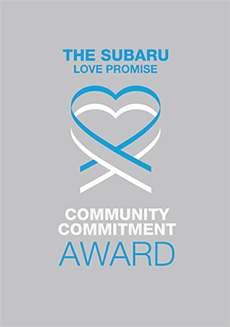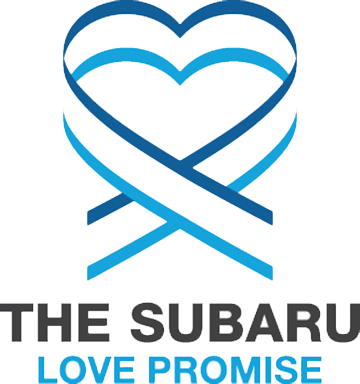 What is the Subaru Love Promise?
Subaru and our retailers believe in making the world a better place and the Subaru Love Promise is our vision of respecting all people. This is our commitment to show love and respect to our customers and to work to make a positive impact in the world.
How is Evergreen Subaru dedicated locally to the Love Promise?
Our Love Promise can be seen in various partnerships with local charities and non-profits. We're grateful for the opportunity, not only to be a part of our community, but to serve it as well.
Greater Androscoggin Humane So, Responsible Pet Care of Oxford Hills
United Way of Androscoggin C, Auburn Middle School
Chamber of Commerce, Boys and Girls Club of Southern Maine, The Public Theatre
Move Me Forward Foundation, Patrick Dempsey Cancer Center, Lisbon Emergency, Safe Voices
Love Promise Stories from Evergreen Subaru
Subaru and Evergreen Subaru believe in making a positive impact on the communities in which we live and work. We uphold that belief through our Love Promise Community Commitment. Every month, we select inspiring stories from customers and partners from around our area who strive to support our collective commitment and feature them here
Sharing the Love and Saving Lives Together - Donna R
A BIG thank you to all of our friends at Evergreen Subaru for another great Subaru Loves Pets Campaign! While it looked very different this year (we missed seeing our Evergreen Subaru friends!), we are grateful for the support in our work, and helping us place a whopping 198 pets in just 31 days – finding loving forever homes for 141 cats, 37 dogs, 4 guinea pigs, 4 hamsters, 4 rabbits, 6 rats and 2 parakeets. Here at the Greater Androscoggin Humane Society our adopters and supporters are our heroes and some go above and beyond to better the lives of their pets. Like Sally and Warren who gave Cappucino all the love and patience needed for her to blossom in her new home. Here's Cappucino's story… Cappucino came to the GAHS as a stray on August 27 along with 4 other cats that had been left in a box on someone's doorstep. She was by the far the most timid of the group and stayed at the shelter after all the others had found homes. Cappucino struggled at the shelter, and the staff tried ways to make her more comfortable while improving her socialization. Her nervous nature worried the staff, as her stress kept her from eating and she began to lose weight. Almost two full months after arriving at the shelter, on October 24, Cappucino found her match when Sally and Warren decided to bring her home. They have worked tirelessly over the past few weeks to make her comfortable in her new home. Sally has been sharing their story on Instagram, and we have all watched in awe as they truly have tried to meet Cappucino where she is. Sally had this to share: "After we lost our dear cat of 10 years in February, we were heartbroken, and we couldn't even think of a new cat. We wanted to adopt an adult cat if we did make the decision to add a family member, because everyone deserves the love and stability of a forever home. My boyfriend filled out the application and made plans to meet Cappucino without telling me, as a surprise, because he knows how lonely I am without an animal in my life. When he heard how hard of a time she was having at the shelter, it was no longer a matter of meeting a cat to bring home to surprise me with, it was about helping her. Once I saw Cappuccino, she stole my heart. I've been obsessively reading about ways to help her, and we are taking small steps at a time to allow her to adjust as we try and help her be comfortable with the big, wide world of our 2-bedroom apartment and all the love we have for her. We still have a long road to get to a place where she is comfy relaxing with us on her own, rather than having to be lured, caught, or coaxed out of a hiding place, but we will get there. She is definitely a two steps forward, three steps back kind of kitty, but we make progress every day. She's so sweet. She has free run of the house now, and she's definitely gained weight. She's still pretty impossible to approach without her trying to hide, but once we have her she's sweet. We make sure to interact when we don't catch her as well, so that she knows we aren't hunting her or something. I spent an hour laying on the floor, talking to her under the bed the other day. We have finally moved her food out from under the bed, and she is eating, but she's definitely jumpy about it, so we are very careful to be relatively still while she does. She's come so far though. Watching her walk around with her thumbs is hilarious and wonderful. More people should open their hearts to an adult animal who needs them. There are no words for how full it can make your heart. If a story about her helps another animal find a home and a family to love them it would just be that much more amazing to have her in my life. I needed her as much as she needed me. For real." Thank you again Evergreen Subaru for your continued Share the Love Partnership and making stories like Cappucino's possible. Best wishes to you all for a wonderful holiday season and we looks forward to seeing you all in person in 2021!
---
Evergreen Subaru Shares So Much Love!! - Stephanie G
Evergreen Subaru has gone above and beyond to help families from our agency. Sandcastle Clinical & Educational Services was chosen as the hometown charity for Subaru Share the Love by Evergreen last year. The $25,000.00 donation presented to us personally could not have come at a better time and was so appreciated as we worked toward fulfilling our mission and bringing much needed therapy and early childhood education to families in our community. Evergreen Subaru sent their team here to Sandcastle in a desire to learn more about the work we were doing as a partner agency in this community. They toured, they listened, and they interacted with our little ones. Beyond the time they invested in getting to understand our guiding principles, they sent a videography team over to our agency and taped family and staff testimony. They did this to educate their customers and our greater community about services being provided. For the past two years, Evergreen Subaru has set up a holiday giving tree and blessed many families with gifts for the holidays they would have otherwise not experienced. Our partnership with Evergreen has been amazing - their generosity and commitment to our community should make Subaru of America proud. Thank you Evergreen Subaru for being such a beacon of hope to so many families!
---
Evergreen Subaru's Stood in the Gap for Our Kids - Joel F
We are so grateful for Doug and Lynn Weisz and the entire team at Evergreen Subaru. They have always demonstrated a great love and support for our community. This past year, they stepped up in a big way to fund summer youth programing at The Root Cellar in Lewiston, Maine. Below is a story that was on our blog, demonstrating the incredible impact of their generosity and commitment to service. We couldn't have done it without them! ________________________ Amid the COVID 19 pandemic, we noted a significant drop in our individual donations and we had to postpone our golf tournament and cancel all of our missions teams. Additionally, grants that have been typically available this time of year were redistributed for other purposes due to the pandemic. We depend on these funding sources to create seven weeks of super summer day camp and twenty plus teen work experiences across the neighborhood including Super Summer Teen Squad Leaders and Lew Crew Lawn Care and Woodworking. Our team pressed forward to creatively determine how to use the governor's guidelines to safely produce a summer camp experience. We had faith that the means and wisdom necessary to do this important work during a season of such uncertainty. That's when Evergreen Subaru partnered with another local business to give us the means to create new and safe programing for our youth. They called us looking for an opportunity to invest in our work in the neighborhood, making the summer of 2020 truly super for our youth. Evergreen Subaru made an incredibly generous donation that helped to create socially distanced, safe and fun opportunities for 70+ neighborhood elementary aged children and 22 neighborhood teens. Super Summer Day Camp provided a safe place for 70 kids to work, play, grow and gather together. Every morning Monday through Thursday, the kids gathered together for the morning session, starting with breakfast, provided in partnership with Lewiston School system followed by "Brain Food", the morning session focused on academic development. After a break from 11 to 12, kids return for the afternoon session. Starting with eating lunch, followed by engaging with each other in character building activities, including arts and crafts, sports in the park and learning to ride bikes and scooters. In addition to our day camp, local teens can apply for summer work experience programs. This summer, twenty-two neighborhood teens received a stipend for participating in an 8+ week summer work experience. Super Summer Day Camp provides working and volunteer opportunities for teens in the community. The participating children are divided into groups, all led by Teen Squad Leader (TSL). Lew Crew Lawn Care and Woodworking is another summer program blessed by the donation. Lew Crew Lawncare and Woodworking engages neighborhood youth to develop work experience and small business skills with a focus on neighborhood beautification. Lew Crew currently serves thirty-three properties and has completed over 50 woodworking projects. This donation from Evergreen Subaru and Giroux Family Masonry will continue to have ripple effects in our community as we look ahead to the rest of the year. With our local schools hybrid learning plan in place, we have been able to open a Downtown Safe Learning Hub, offering educational opportunities for neighborhood children as they navigate these difficult days. _____________ This full story can be read at https://therootcellar.org/goodnews/2020/8/26/evergreen-subaru-and-giroux-family-masonry-stepped-up-this-summer
---
Partnering with Evergreen Subaru - Matt B
As a professional videographer in Maine, I was very fortunate to meet Lynn and Doug on a commercial shoot back in my television days. We instantly connected and they quickly became friends. Over the years we have continued to partner together on many different projects including commercials, promotional videos and most recently a virtual tour of their new building. From the time I started working with Evergreen Subaru, I have witness so many acts of kindness and caring towards their community. I have been lucky enough to produce videos highlighting their "Share the Love" campaigns and all of the amazing organizations they have helped over the years. I have always said, if I didn't love my job as a videographer, I would work at Evergreen Subaru for the sheer fact that they genuinely care. They care about their people, they care about their community and they care about doing the right thing every time to make sure every customer is treated fairly. Since we have worked together, My wife and I have also purchased 2 vehicles from ES. The experience of purchasing the vehicles was stress free and very easy and we will continue to do business with them into the foreseeable future!
---
Share the Love - Christy G
I can't even begin to explain how much this year's Subaru Share the Love campaign means to our organization. Being able to partner with our local Subaru dealer can easily double our annual budget and allow us to help so many more individuals with disabilities and their families. Central Maine Adaptive Sports serves individuals with physical and intellectual disabilities as well as their families, guardians, or sponsors in adaptive sports pursuits such as ski & snowboard, snowshoe, sled hockey, cycling, kayaking, and track & field. In addition to being able to get outdoors and be active in physical pursuits that are generally not accessible to people with disabilities, the athletes are able to build strength, motor skills, confidence, and social skills while being able to also build a better bond with their family despite potential communication disorders. It's amazing to see the participants light up and their parents cry because their child is able to a part of a team or see then cross the finish line, or honestly even just smile or make eye contact for the first time ever. The Share the Love program could literally double the number of families we're able to help annually and I can only imagine the difference that would make to all of those families, especially after a rough 2020 in which so many services for the disabled like day programs where shut down through the pandemic.
---
Evergreen Subaru Shares Love for Lewiston Youth! - Alli N
All of us at Tree Street Youth were beyond thrilled to be selected as the Hometown Charity for the Subaru Shares the Love Campaign this 2019. Tree Street Youth serves over 750 Lewiston/Auburn Pre-K-12 youth each year through our afterschool and summer programming. All of our programming - Youth Leadership, College Access & Homework Help, Juvenile Justice, enrichment opportunities in the arts and athletics, a safe drop-in center - come at no cost to families. That means that it takes a lot of support from our community to keep it all running and Evergreen Subaru has gone far above and beyond in showing their support to our youth center and all of our youth. Doug and Lynn Weisz & their amazing staff team were incredible partners this year. The Evergreen Subaru team got directly involved with organizing a paper goods drive (you can never have enough toilet paper and paper towels at our center!), running Maine Public awareness raising ads, leading a very special - and yummy - cookie decorating activity with our littlest students, and bringing their sales consultants on tours of our center to learn about our programs, meet our youth, and become even better ambassadors to share our mission & vision with their customers. What made the Subaru Shares the Love Program so special was this engagement and enthusiasm for our center shared by the entire Evergreen staff team. We could not be more grateful to Evergreen Subaru and Subaru of America. Their support and partnership is a testament to their amazing team and their commitment to our community. The funds that were raised through the Campaign directly benefit our MAPLE Youth Leadership Program and our BRANCHES College Access Program and therefore, has an impact on hundreds of youth in our community. With utmost gratitude, thank you Evergreen Subaru for investing in our youth and the future of our community.
---
A volunteer describes his work - Sarah C
Meals on Wheels would not be the success it is without the help of its many volunteers. At the annual Fill the Plate Breakfast to benefit Meals on Wheels at SeniorsPlus, we recognize someone who has made a difference to the lives of older people. This year, U.S Senator Susan Collins was recognized for her work and also was the keynote. Traditionally, another part of the program gives guests insight into the inner workings of Meals on Wheels through a presentation by a client, a staff member, or a volunteer. Chris Vachon, a longtime (11 years!) Meals on Wheels volunteer, was interviewed about his MOW work by his Direct Support Person. Meals at SeniorsPlus are prepared freshly in the kitchen and Chris helps pack the meals into meal trays and then into the delivery cars. Chris came to Meals on Wheels at SeniorsPlus through Work Opportunities Unlimited, a community-based employment service provider specializing in placing job seekers who experience barriers in employment. It is one of 14 agencies that together provide SeniorsPlus with a loyal team of more than 425 Meals on Wheels volunteers.
---
Evergreen and Wending Maps & Wayfinding - Wendy C
It was while I was buying my Outback from Evergreen Subaru that it occurred to me to ask for support of the not-for-profit mountain-biking maps project I was working on—after all, Subarus are great cars for outdoor adventures, including mountain biking. I talked to Lynn about it and she has been a wonderful supporter ever since. We worked together on a sponsorship package that has helped make the production of the maps possible. But not only that, Lynn has promoted the project through Evergreen's online and traditional media channels (I found about the radio channel when friends said "I heard about your maps on public radio!") and has recently produced a fun video of a group of us on a regular Tuesday-night ride. Evergreen Subaru has not only helped make the maps possible, but also helped promote them and make them available to people for being active in the outdoors. Truly a benefit to our community. I am grateful for Evergreen's support in making this happen.
---
SeniorsPlus Meals on Wheels Delivery in Maine - Sarah C
SeniorsPlus: A Day in the Life of a Meals on Wheels Driver Christopher Randall is a Meals on Wheels driver and assessor in rural Western Maine. In this program, he describes his work, travels, and the people he meets. (SeniorsPlus is grateful to Subaru of America for the donation of the 2018 Subaru Outback delivery car.)
---
Sharing the love down the road - Shelley K
The Androscoggin Land Trust (ALT) was happy to be at a recent event for community members and customers, hosted by Evergreen Subaru, and to witness the big reveal of the amount they raised for this years Share the Love Hometown Charity Trinity Jubilee Center! It was such a testament to the type of relationships Evergreen Subaru builds with their Hometown Charities, and their local community, to see that representatives from all 5 of the past locally based recipients attended this reveal event. The staff clearly embraced the Share the Love campaign and really connected with their hometown charities. ALT is grateful to have been last years recipient, to have a continuing relationship with Evergreen Subaru and we are excited to celebrate with the next recipient!
---
Kindness and pies - Erin R
The Trinity Jubilee Center was honored to be selected as Evergreen Subaru's Share the Love Hometown Charity. Trinity is a community center offering a soup kitchen, food pantry, day shelter, medical clinic, and help with basic necessities and employment and housing searches. The Evergreen Subaru team truly went above and beyond in their support of our work. They visited the Center several times, meeting guests and serving meals in the soup kitchen. Our Executive Director met with Evergreen staff eager to learn more about the Center's mission and programs. Evergreen invited the Center to install a display in their showroom to raise awareness about community needs and the Center's programs. When Evergreen learned that the soup kitchen didn't have enough pies for the Thanksgiving meal, they arrived with stacks of pumpkin pies! Evergreen Subaru really took to heart this commitment to their hometown and their neighbors. Working with them has been an overwhelmingly positive experience and they have been so open to opportunities to learn, share, and make a difference. This Share the Love partnership culminated with a community celebration that brought together staff, customers, and community leaders to honor the Center's work, the dedication of the Evergreen team, and incredible donation Share the Love was able to give to the Center. We are so grateful for their enthusiastic support. It has made a significant impact on our small organization and we will be forever grateful.
---
Evergreen Subaru steps up to help families in need - Erin R
Evergreen Subaru has been a wonderful supporter of the Trinity Jubilee Center in Lewiston over the years. Trinity Jubilee offers a soup kitchen, food pantry, day shelter, medical clinic, and assistance with employment, housing, and basic needs. As we rely heavily on donated items to serve our clients most basic needs, Evergreen Subaru has been a willing and generous partner in hosting a number of collection drives over the years. They have donated and collected diapers several times (which are always in such high demand for our clients) and even collected sports balls for kids to make their summers a little more fun! This winter, they created a brand new collection event to meet a critical, basic need for our clients. Evergreen Subaru's "Share the Love Collection Drive" collected winter gloves and hats for our clients during this brutally cold winter. We give out gloves based on what we have donated at that time. There have been times when we haven't had sufficient quantities or appropriate sizes for people who needed gloves. And to increase awareness and donations, Evergreen Subaru even partnered with a radio station to raffle off Taylor Swift tickets to help this collection drive be its most successful. We are grateful to have such a generous and responsive business partner in our community!
---
Grateful for Our Outback and Meals - Sarah C
Chris Randall, Meals on Wheels at SeniorsPlus driver and assessor, gave a PowerPoint presentation at the annual Fill the Plate Breakfast to benefit Meals on Wheels at SeniorsPlus. The benefit event attracted more than 200 people. Guests were shuttled from the parking area to the event in the Subaru Outback that SeniorsPlus received through the 50 Cars for 50 Years program of Subuaru of America and Meals on Wheels America – giving the car a break from the long rides it's made since we received it and were hit with record-breaking snowfall. The breakfast event is part of the March for Meals initiative of Meals on Wheels America. Chris handles many deliveries in the more remote areas of Western Maine. He opened his talk with: "My day to day journey brings me to some of the most rural areas that I've ever seen in my life. Small old towns. Country roads. Year to date, thousands of miles will be driven. I will meet up with Mother Nature along the way and will conquer snowfall, rainfall, extremely muddy roads and driveways, and when lucky a beautiful summer day, I'm really looking forward to some of these. I say this very confidently because all this happens in our new 2018 Subaru Outback." Featured in his talk was Meals on Wheels consumer Sherry, who said "I can't stand for long, so Meals on Wheels helps me because I can't stand and cook." Here's the Subaru parked in front of Sherry's building with Chris unloading Sherry's food.
---
Collaborating on food drive - Sarah C
SeniorsPlus, Western Maine's designated agency on aging, will collaborate with Evergreen Subaru of Auburn on a food drive as part of the national Subaru Share the Love program. The two organizations will partner together to hold a "Stuff the Subaru - Share the Love Food Drive" for seniors in need from January 22 through February 14 at Evergreen Subaru at 774 Center Street in Auburn.Foods gathered at the food drive will be used by SeniorsPlus to create emergency food packs of non-perishable foods for distribution to people suffering from hunger. SeniorsPlus serves through its Meals on Wheels program more than 100,000 meals annually to almost 800 individuals."These Emergency Food Packs enable us to divert a crisis hunger situation while longer-term solutions are found. No one should go hungry," said Betsy Sawyer-Manter, President and CEO of SeniorsPlus. More than 200,000 Mainers struggle against hunger.
---
Working together. Saving lives. - Donna K
As a non-profit animal shelter, the Greater Androscoggin Humane Society relies on the support of many local business and business owners who share our love for pets. And our local Subaru dealership, Evergreen Subaru, does not fall short. Their investment in our work and their commitment to animal welfare in our community enables us to provide essential serves for the more that 4,500 animals we welcome annually. The encouragement Doug and Lynn Weisz (and their amazing team of animal lovers) have provided us over the last 5 years has helped to save thousands of lives. Lives, not only within the Shelter but within our community. In addition to having had the honor of being chosen as Evergreen Subaru's "hometown charity" for the 2013 Share the Love Event and most recently, last month's Subaru Loves Pets Campaign; they share our vision for improving lives of the animals both within and beyond our Shelter's walls. Over the years, they have graciously opened up their dealership for many fundraising events, adoption events and even a vaccination clinic in a combined effort to make our communities pets healthy. We are grateful for Evergreen Subaru's commitment to our mission, our work and our community – because their investment at this level tells us we are on the right track. We look forward to the next 5 years; working together and continuing to provide essential programs and services for the animals we welcome and the community we serve.
---
Picking up our 2018 Subaru Outback - Sarah C
Our award of the 2018 Subaru Outback for deliveries of Meals on Wheels at SeniorsPlus, began with the car pick-up at Evergreen Subaru in Auburn, Maine. The trusty Evergreen team joined Holly Zielinski, Nutrition and Community Services Director at SeniorsPlus, and Betsy Sawyer-Manter, President and CEO of SeniorsPlus, for a photo op. The team at Evergreen continues to wow us with their generous engagement with SeniorsPlus as well as other nonprofits in the community. Our 2018 Subaru Outback is now making the meal-delivery rounds. Watch for it! It's a sky-blue beauty!
---
Ribbon cutting with friends for our new Subaru - Sarah C
Our Subaru family convened on a crisp Maine morning today as we unveiled our sky-blue Subaru Outback. SeniorsPlus, Western Maine's designated Agency on Aging, was lucky enough to be one of fifty Meals on Wheels organizations nationwide to be awarded a 2018 Subaru Outback. Attendees at the unveiling included Holly Zielinski, Nutrition and Community Services Director at SeniorsPlus, Bill Bergeon, Subaru Of New England District Sales Manager, Doug Weisz of Evergreen Subaru in Auburn, and representatives from the offices of Senator Susan Collins, Senator Angus King, and Congressman Bruce Polliquin. Doug Weisz and Lynn Weisz of Evergreen Subaru in Auburn were, as always, a great help and lent us the car bow of car bows. Plans are now underway for us to collaborate on a food drive in January. In case you missed it, in celebration of its 50th anniversary and in partnership with Meals on Wheels America, Subaru of America, Inc. has donated 50 Subaru Outbacks nationally to 50 Meals on Wheels delivery organizations. On average each month, SeniorsPlus drivers cover 3250 miles to deliver meals, and the donated 2018 Subaru Outback will enable staff and volunteers of SeniorsPlus to reach 75 more older people and serve 1500 more meals each month. Thank you Subaru!
---
Spreading Love and Warmth to Cancer Patients - Amy H
On July 5th, Evergreen Subaru and the Leukemia and Lymphoma Society MA Chapter started their day by making a delivery to the Dempsey Center in Lewiston Maine. This was done as part of the "Subaru Loves to Care" project - a partnership between Subaru of America, Inc. and The Leukemia & Lymphoma Society. The goal of this campaign was to share some hope, warmth and comfort with adults and children receiving treatment for a cancer diagnosis. They delivered cozy blankets and kids craft kits to distribute to individuals and families who utilize the Dempsey Center.
---
Evergreen Subaru: Caring for their community - Jennifer M
I remember when word first got out that there was going to be a Subaru dealer in town. That was VERY exciting news to me. Working in Lewiston/Auburn, having a Subaru dealer in town meant I could get my car serviced while I was at work instead of making a special trip to Bath or South Portland. I actually called them to make an appointment before they were even open. I drove that first car 172,000 miles and the great folks at Evergreen Subaru made it possible. Now I am over 50,000 miles into my second Subaru Forester and I know that I am in good hands at Evergreen Subaru. I feel "taken care of": that secure feeling you have when there is a great team behind you and you know they won't let you down. Evergreen Subaru doesn't take care of just their customers, they also take care of their community. I work at The Public Theatre in Lewiston. For 26 years, we have produced Broadway-quality theatre, with professional actors who come up here from New York City. Two years ago, Evergreen Subaru became a Corporate Sponsor. Along with our other sponsors, Evergreen Subaru is enriching the arts and culture of Lewiston Auburn, and making it an even more wonderful place to live. On behalf of the 300,000 theatregoers and 100,000 children who have attended our shows (lowest price tickets anywhere!), I thank Evergreen Subaru for being there for me, AND my community.
---
Evergreen, Land Conservation & Outdoor Recreation - Shelley K
Androscoggin Land Trust(ALT) is truly grateful to have been selected by Evergreen Subaru as the 2016 Share the Love Hometown Charity. The partnership was a perfect fit. Subarus reliably transport ALT's outdoors-loving members into the natural places we work to conserve! Joining forces with the terrific employees at Evergreen has been a pleasure, and will continue to have a significant impact on our mission. In preparation for the campaign, Evergreen staff took time to hike an ALT trail (across the river from their business) to learn more about ALT. We walked and talked about our shared commitment to the places and people that help our community thrive. Evergreen then created an exciting promotional video. Owners Lynn and Doug Weisz are wonderful, collaborative supporters of ALT. Doug thoughtfully described our work by saying: "We can't take our community's natural resources for granted. It takes volunteers, materials, time and funds to protect and maintain them." Lynn spoke at our annual meeting, sharing words about Evergreen's commitment to ALT's work, which contributed greatly to the event. Whenever we stopped in to replenish supplies, the energy and engagement of the sales staff was evident. Evergreen "shared the love" with ALT not only through invaluable funding, but by sharing our mission with its customers. Our appreciation for the support of this wonderful local business cannot be overstated. A heartfelt thank you to Evergreen, and to Subaru's Share the Love campaign!
---
Partnering Against Hunger - Sarah C
On what was the coldest day of the year to date, SeniorsPlus, Western Maine's designated agency on aging, collaborated with nearby Evergreen Subaru as part of the national Subaru Share the Love program. The two organizations held the "Share the Love Food Drive" on Friday, December 16 from 9 am to 3 pm at Evergreen Subaru at 774 Center Street in Auburn, Maine. Almost 300 pounds of food was collected on what turned out to be one of the coldest days to date this fall/winter. Foods gathered at the food drive are being used by Meals on Wheels at SeniorsPlus to create emergency food packs of non-perishable foods for distribution to individuals in need. People who wished to contribute food to the campaign dropped off non-perishable items at Evergreen Subaru. To catch the eyes of passersby during the food drive, a SeniorsPlus banner was placed in front of the Subaru dealership, as was a Meals on Wheels van decorated with a large red bow. Emergency Food Packs enable SeniorsPlus to divert a crisis hunger situation while longer-term solutions are found. Evergreen Subaru helped to get the word out about the food drive, including hyping the event on social media. Evergreen employees assisted mightily with food collection that chilly day. Through its Meals on Wheels program, SeniorsPlus serves more than 100,000 meals annually to 800 individuals, many of whom live in remote, rural areas. Maine being the "oldest state in the country" so keeping up with MOW demand is challenging.
---
Evergreen Subaru Supports Boys & Girls Clubs! - Ann M
Evergreen Subaru in Auburn, Maine has been very generous to Boys & Girls Clubs of Southern Maine, particularly its Auburn/Lewiston Clubhouse! The Clubs were named Evergreen Subaru's 2015 Share the Love hometown charity and received $25,000 in Spring 2016 to support the purchase of a second 12-passenger van at the Clubhouse. In addition, Evergreen Subaru hosted job-shadowing days for our Club members to get a sense of all the departments at Evergreen. Since then, Evergreen Subaru continues to be very charitable to its local Boys & Girls Club! Evergreen helped furnish the Teen Center with gently used couches and love seats, and is helping to find the perfect van for the Clubhouse's transportation program. Overall, Evergreen Subaru has helped transform BGCSM's Auburn/Lewiston Clubhouse to serve more members, more often, with greater impact in the Lewiston/Auburn community.
---
Helping Us Help Children - Amy M
Evergreen Subaru in Auburn, Maine has made a very generous donation to our service. Lisbon Emergency is a non-profit organization providing emergency medical care to the residents of Lisbon, Maine and surrounding communities. Evergreen Subaru has made is possible for our service to purchase a new pediatric jump kit. This jump kit will save us valuable time when treating children in an emergency setting. Everyone at Lisbon Emergency thanks Evergreen Subaru for all they do and for giving back to the community.
---
"No ordinary school supply drive" - Sarah D
When you think of a school supply drive, your mind automatically thinks about pens, pencils, paper, notebooks, binders, etc. I bet you didn't consider deodorant, toothbrushes, snacks, and gently used sneakers. Well, Lynn Weisz and the staff at Evergreen Subaru were willing to think outside of the box this fall for their "Adopt a Classroom" campaign. Our school is made up of more than 50% of free and reduced lunch students, which means that more than half of our student population lives in poverty. Of course pencils and paper help children learn, but how can we expect them to learn when their basic needs have not been met? Our school has the "Green Closet". We stock this space with hygiene products, food, gently used clothing and footwear, and winter attire so we can meet the needs of our students and their families. There are SO many students who access these items, whether they come hungry to school, arrive wet from the rain, have hygiene needs, have holes in their sneakers, or so many other reasons. The Evergreen Subaru staff and their customers helped us stock our shelves to prepare for the year ahead. We are SO fortunate to have a business in our community who will work with us and support us to meet our children's needs. We can't thank them enough!
---