Nothing makes us happier than hearing about how happy we made YOU!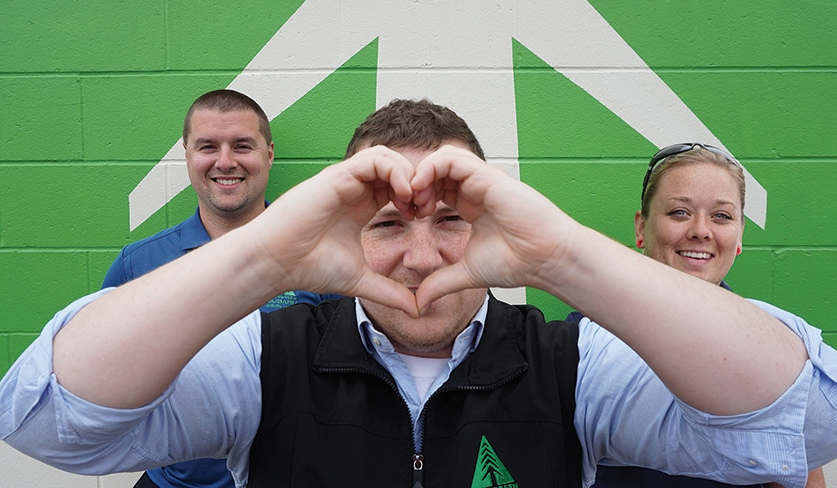 SALES
"We just had the best car buying experience from Evergreen! It wasn't your typical pushy sales people and behind the scenes general sales manager. We met everyone though the process, all the staff were exceptional and went above and beyond. Thank you Sallie, Colby, Chris and Josh for making car buying easy and actually a pleasurable experience. We will recommend you to all. And the legacy is great too!"
- Melissa, December 2017



"I recently bought a Certified pre-owned Subaru from Evergreen and I couldn't be happier. I was negotiating with one other dealership at the time but Evergreen won me over with the better quality vehicle and the fact that they weren't pushy. I also appreciate that they took the time to help me sync my cell phone with my car - never had a car dealer do THAT before! I hope to have my car for a long time but when it comes time to buy again, I'll go back to Evergreen." - Lynne, September 2017



"I have had nothing but a good experience since I bought my 2018 forester a few weeks ago! Not only were they not pushy when I started shopping a couple of months ago, but we're also more than accomodating when i decided to buy from them. They did such a great job installing my fog lights and auto dimming mirror! Previously leased through another Subaru dealer and never came close to the service I'm getting at evergreen!" - Sarah, August 2017



"Recently purchased my third Subaru from Evergreen. Most of my experience had been with the service department, who impressed me enough i had started bringing my nissan truck there. Salesman (Jake) was very pleasent and made the purchase easy and not like pulling teeth (an experience i had with other dealers) i highly recommend Evergreen to anyone i know." - Matthew, April 2017



"The atmosphere at Evergreen is very professional, but not uptight. We never felt overwhelmed or pushed, and everyone was eager to answer questions, explain confusing items, and make our car shopping painless. Their waiting area is also very homey with a variety of complimentary beverages and snacks, reading material, a kids' corner, and even a fireplace! We have both met a lot of shady car salespeople in our lives, and our experiences at Evergreen Subaru have been like a breath of fresh air! Thank you all so much! Happy car shopping" - Chris & Hannah, April 2017

"I've never had a better experience buying a vehicle! The entire staff was very helpful and down to earth. They work hard to make a deal that is realistic and fair for you. I will shop there again in the future, and recommend anyone looking for a vehicle to stop in and see what they have!" - Jessie, March 2015
"THANK YOU for just an amazing customer experience. We LOVE our new Subaru and could not have imagined being treated better. From your warm and welcoming environment, to your expert knowledge and follow-up, we felt (and continue to feel) so well taken care of every step of the way." - Lisa, March 2015.
"I had an overall amazing experience with Evergreen Subaru! Ryan Pablo made my first real car-buying experience painless and pleasant. He helped my find exactly what I needed in a vehicle and within my price range. I would definitely recommend Ryan and Evergreen Subaru to anyone looking to buy a car!" - Jessie, March 2015.
"Loving my new Subaru Crosstrek! It's the perfect vehicle for me; roomy, sporty, and good in the snow.

Thank you, Ashley, for being a patient and knowledgeable salesperson, for answering all my questions, for not pressuring me to make a decision before I was ready, and for all the many test-drives I apparently needed before I could make my decision. You made the purchasing process fun . . . it was very much worth the drive up from Westbrook to purchase through Evergreen." - Hilary, March 2015.
"I typically find car shopping scary! Barry, the wonderful consultant at Evergreen Subaru took all fears away when purchasing our car. Our questions were answered in a polite and non-pushy way. The best was, I wasn't sure if my family would fit comfortably in the back seat as we're tall, Barry (who is also tall), said you adjust your seat accordingly and I'll climb out back to see how we all fit. Not only did this put a smile on my face, but it sealed the deal! :)" - Kari, March 2015.

SERVICE
"First time customer, and I was treated like an old friend - the service department bent over backwards - can't tell you the last time I was so impressed with a dealership - thanks to Joel and his very capable service crew! First time - won't be the last." - Carol, December 2017


"Thanks for being the most honest and ethical place to get your car worked on!" - Jyme, June 2017


"Just had my 1st service appt. It couldn't have been easier! All of the staff were courteous & professional, and the shuttle service was convenient & prompt. Thank you all for being so helpful & efficient!"- Jessica, March 2015.
"Awesome service and great people made getting my car serviced enjoyable. Very clean and fresh popcorn in the waiting room were appreciated. the service was fast but I would not have noticed the time, as they had everything I need to keep me working while I waited. Best service experience I have ever had. Thanks folks." - Patrick, December 2014.
PARTS
"Chris, in Parts: THANK-YOU SO VERY MUCH for your Help & assistance with Decoding VIN #'s to ENSURE the transmission I have, will work for my application. I just want you to KNOW that you made MY & a customer's day MUCH BETTER & MUCH MUCH EASIER!!! Very easy to work with, He knows his stuff."- Rod, January 2015